By Tony Magnusson.
For those who call the continent of Australia home, the regeneration of native flora in the wake of bushfire is always a welcome sight, and never more so than following the devastating bushfire season of 2019-20. The process plays out as a triumph of colour over monochrome. First comes a lime-green fuzz, smudging the blackened trunks and branches of recently scorched trees. Then the frothy clouds expand to form a garment of chartreuse leaves, radiant and flickering in the light.

By Nigel Prince
The final paragraph of The Dead, the short story by James Joyce, and hence the last of the collection in which it sits, Dubliners, concludes with the writing of aching poignancy. The sentences touch on the thoughts of the narrative's main character Gabriel as he watches falling snow from the window of his hotel room. While caught in this moment, he reflects on his wife Gretta's recollection earlier that evening of her childhood love, prompted by conversation during a dinner party.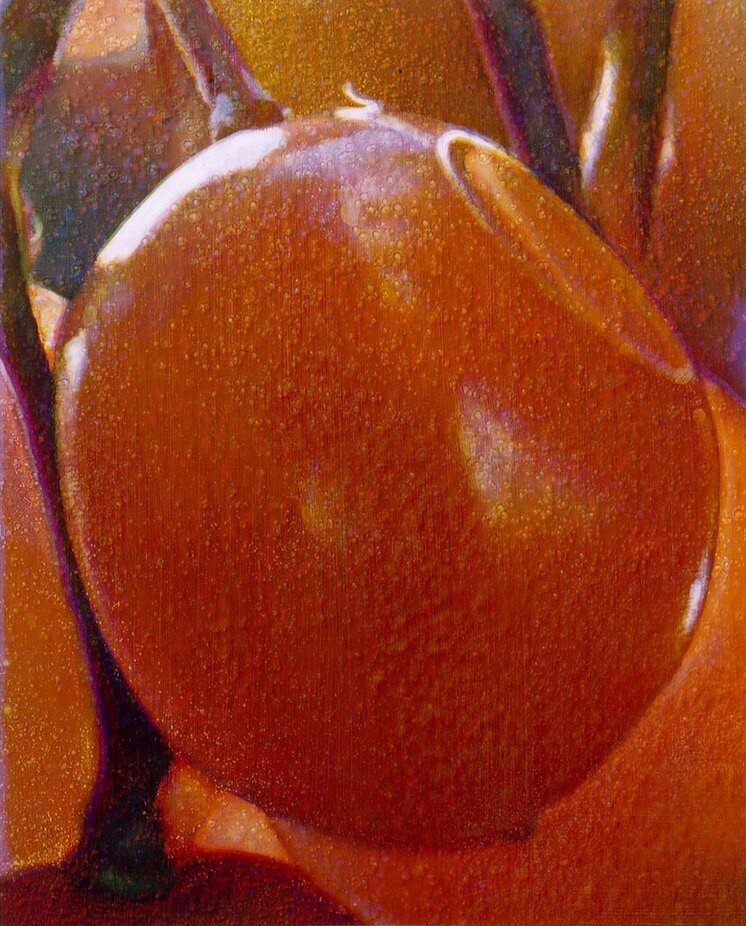 By Tim Maguire
17th Century Dutch floral still-life paintings often fulfilled a moral function. Whilst evidently painted as a celebration of beauty and of the richness of the natural world (and indeed the wealth of the painting's owner), they generally had included in their compositions specific elements which served as memento mori (reminders of death). The very early floral studies were sometimes painted onto the back of portraits.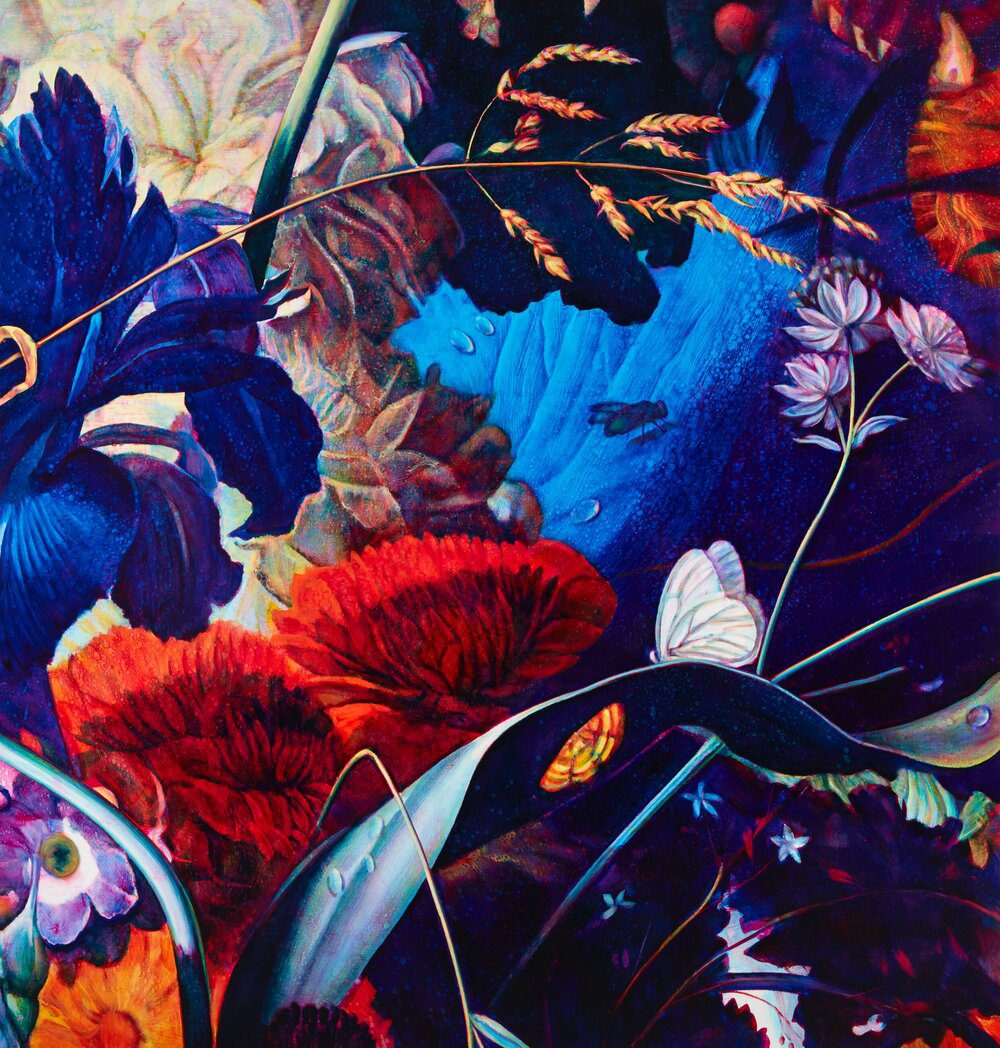 Tim Maguire, in conversation with Jonathan Watkins
For a long time now, painting and printmaking have played off each other in my work. Frustrations in one area are often solved through investigations in the other.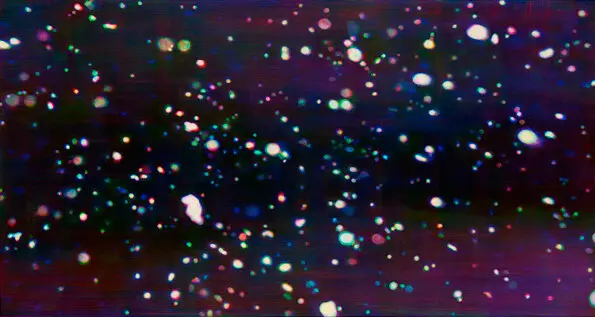 Von Lintel Gallery is pleased to announce its third exhibition of new paintings by Australian artist Tim Maguire. In this latest body of work, Maguire continues his practice of combining digital image-making techniques with a painterly process to create large-scale oil paintings.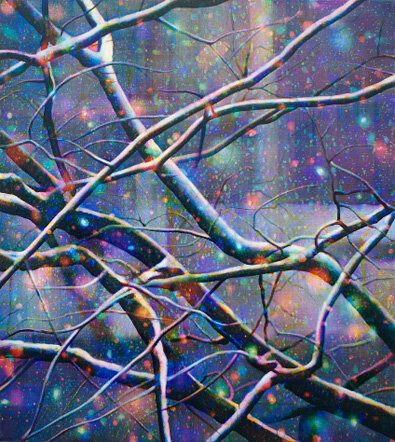 By Laurent Boudier
Fiercely blazing, openly blooming and baroque, Tim Maguire's painting is an exultation of seduction and luxuriance. With the flamboyant playfulness of a well-schooled bad boy, the artist – Tim Maguire was born in 1958 in England, grew up in Australia and lives in London – shamelessly elects the blossom of a tulip as both model and paragon.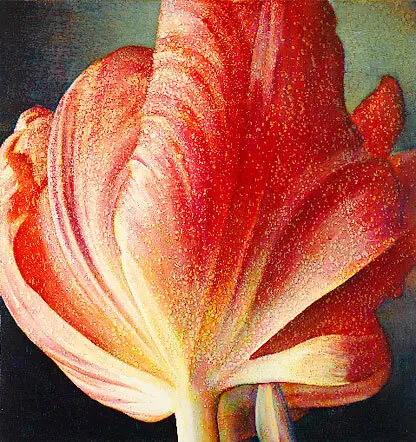 By Dr Shaune Lakin
Physically, he said, painting has kept him pretty fit... Maguire has been throwing paint lately. At large canvases. He walks back and forwards eight metres, all day long, to see what the pictures look like as they grow.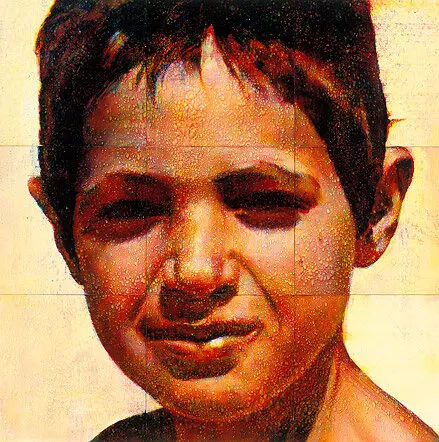 Catalogue, Galerie
Andreas Binder
By Bruce Millar and Sarah Miller
In choosing to create this new series of monochrome paintings, Tim Maguire has taken what might be seen as a risk in depriving himself – and his audience – of what has been one of his great strengths in recent years: the riot of colour, the hot reds and greens and pinks and yellows that have animated his work.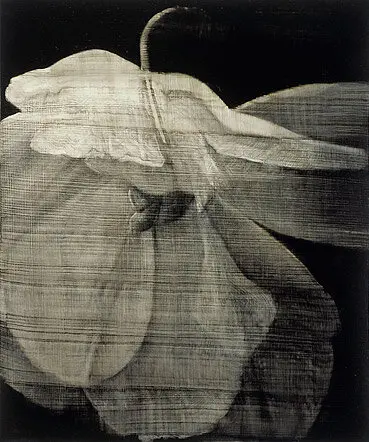 Catalogue, Tolarno Galleries
By Sarah Miller
Tim Maguire's art may manifest itself (primarily) in paint, however; his approach to process and source imagery is essentially photographic. The insubstantiality of the physical surface, the luminous glazes and the panoramic scale allude to the cinema.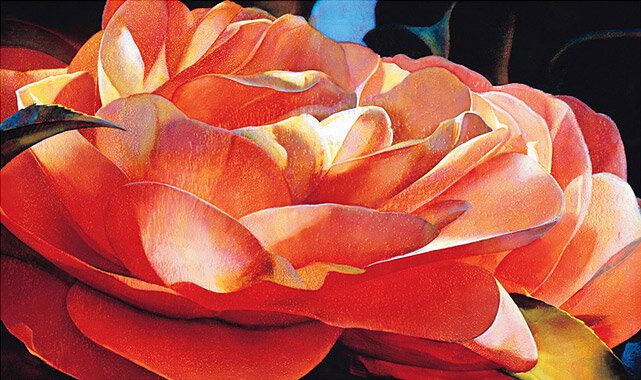 Catalogue, Curtain Gallery
By Suzannah Biernoff
At first glance, Tim Maguire's recent 'abstract' paintings resemble photographs. There is little evidence of human creation or even mediation: no recognizable trace of the artist's hand; no reference to the world negotiated daily by the naked eye.